• 90s • Alan Arkin • Art • Bill Campbell • Collectibles • Collectors • Comic Series • Dave Stevens • Disney • Film • Howard Hughes • Jennifer Connelly • Limited Edition • Locations • Movie • Okkto • Paul Sorvino • Pens • Retro 1951 • Rollerball • Stanley Foss • Terry O'Quinn • The Rocketeer • Timothy Dalton • Trailer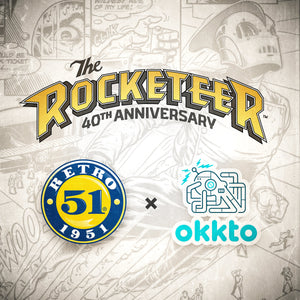 Greetings to my pen and paper lovers!
I was looking through my Instagram feed the other day and happened to see Retro 1951's post about their partnership with Okkto, a pop culture collectibles company. They are offering a limited edition collectors set of rollerball pens to commemorate the 40th anniversary of Dave Stevens' comic book series The Rocketeer, which will be available in October! Makes a truly unique gift for someone you love or for yourself!